description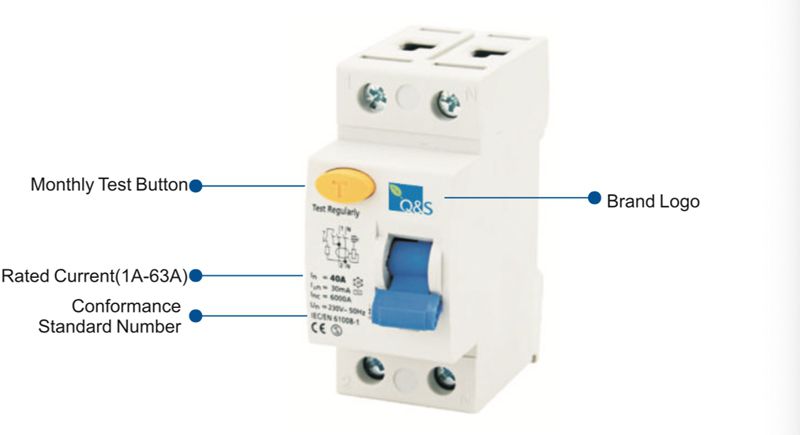 Electrical Features
Mode
Electromagnetic
Type
AC,A,G,S
Rated current In
16,25,32,40,63A
Poles
2P(1P+N),4P(3P+N)
Rated voltage Ue
2P 240V~
4P 415V~
Insulation voltage Ui
500V
Rated frequency
50/60Hz
Rated residual operation current(I△n)
10,30,100,300mA
Rated residual making and breaking capacity (I△m)
500(In=16-40A) 630(In=63A)
Short-circuit current Inc= I△c
EKL1-63 6,000A
EKL1-63H 10,000A
SCPD fuse
EKL1-63
EKL1-63H
Break time under I△n
≤0.1S
Rated impulse withstand voltage(1.5/50) Uimp
4000V
Dielectric test voltage at ind.Freq. for 1min
2.5kV
Electrical life
2,000 Cycles
Mechanical life
4,000 Cycles
Installation
| | |
| --- | --- |
| Contact position indicator | Yes |
| Protection degree | IP20 |
| Ambient temperature(with daily average≤35℃) | -5℃~+40℃ |
| Storage temperature | -25℃~+70℃ |
| Terminal connection type | Cable/Pin-type busbar/U-type busbar |
| Terminal size top/bottom for cable | 25mm2 18-3AWG |
| Terminal size top/bottom for busbar | 25mm2 18-3AWG |
| Tightening torque | 2.5Nm 22In-lbs |
| Mounting | On DIN rail EN60715(35mm) by means of fast clip device |
| Connection | Power supply in both directions |
Tripping Current Range
Type
Tripping current I△/A
AC
0.5I△n<I△<I△n
A
Lagging Angle
I△n>0.01A
I△n≤0.01A
0°
0.35I△n≤I△≤1.4I△n
0.35I△n≤I△≤2I△n
90°
0.25I△n≤I△≤1.4I△n
0.25I△n≤I△≤2I△n
135°
0.11I△n≤I△≤1.4I△n
0.11I△n≤I△≤2I△n
Alternative Current Sensitive
Pulsating direct current sensitive
Surge current proof


They react to AC current which, whether suddenly applied or slowly arising.
They react to AC and pulsating DC fault current which reach 0 or almost 0 within one time period of the mains frequency.
RCCB's surge capacity.
Not tripping at standardized 8/20 υs surge-current waves acc.to VDE 0432 Part 2 with surge current values of up to 250A.
Circuit Diagram

Overall and Installation Dimension(mm)